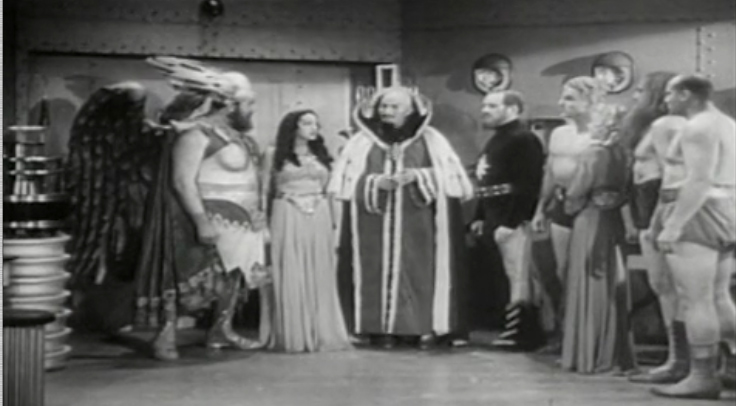 Flash Gordon's Trip to Mars is a 1938 serial film of 15 episodes, based on the comic strip Flash Gordon. It is the second of three Flash Gordon serials made between 1936 and 1940.
The main cast from the first serial reprise their roles: Buster Crabbe as Flash Gordon, Jean Rogers as Dale Arden, Frank Shannon as Dr. Alexis Zarkov, Charles B. Middleton as Ming the Merciless, and Richard Alexander as Prince Barin.
Also in the principal cast are Beatrice Roberts as Queen Azura, Donald Kerr as Happy Hapgood, C. Montague Shaw as the Clay King, and Wheeler Oakman as Ming's chief henchman.
A fictional chemical element called Nitron is vanishing from Earth's atmosphere, causing hurricanes and other meteorological disasters. Dr. Zarkov and Flash discover that a raybeam from Mars is the source of the nitron depletion. A dopey newspaper reporter, Happy Hapgood, stows away on their rocket when Flash, Zarkov and Dale Arden go to Mars to investigate.
There, they discover that Azura, Queen of Mars, is working with Ming the Merciless to conquer Earth. All of the Martians who oppose her partnership with Ming have been changed into clay humanoids, forced to live underground in caverns beneath Mars' surface. The four earthling take refuge in one of these caverns and team up with the Clay King to destroy the Nitron Lamp that is draining Earth's atmosphere. They also agree to help restore the Clay People to their human form and together, defeat Azura and Ming.
text from wikipedia