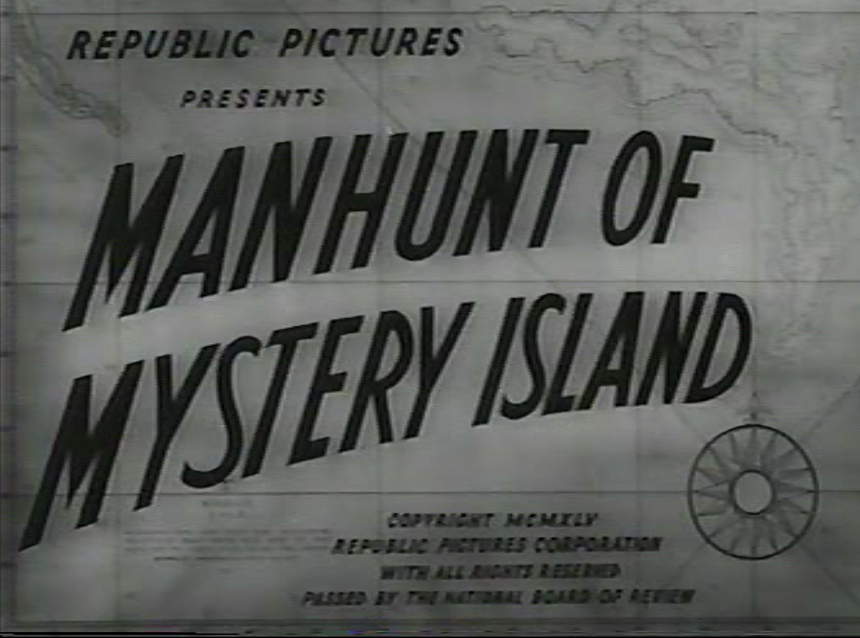 Manhunt of Mystery Island (1945) is a Republic Movie serial. It was the thirty-sixth serial produced by Republic (of a total of sixty-six) and the first released in 1945.
It is the penultimate 15-chapter serial to be released by the studio. The year 1945, the end of the Golden Age of Serials, was the last in which Republic released any 15-chapter serials, the remainder being either 12- or 13-chapters in length.
In 1966 footage from the serial was edited together into the 100-minute film Captain Mephisto and the Transformation Machine.
A mad genius seeks to conquer the world, using a Transformation Machine to disguise himself as "the legendary" pirate Captain Mephisto. To do so, he kidnaps Prof Forrest, resulting in his daughter Claire Forrest, with Lance Reardon, coming to the rescue.
{I've always felt that Lance's hat, which never leaves his head, despite falling off a cliff into a lake,countless fights, car crashes and much more, never leaves his head deserves its own credit.}
text from wikipedia