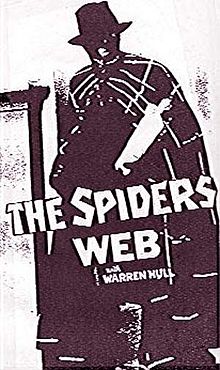 The Spider's Web is a 1938 Columbia Pictures movie serial based on the popular pulp magazine character The Spider. The first episode of this 15-chapter serial was double-length and directed by serial and western specialist Ray Taylor and by comedy and serial veteran James W. Horne; it was the fifth of the 57 serials released by Columbia.
The serial was wildly successful when first released in 1938; it was the most popular serial of that year, according to a tally published in The Motion Picture Herald, and was such an exhibitor favorite that Columbia used it to launch a series of reissues in 1947. A sequel, The Spider Returns, was released in 1941; of the Spider's Web principal actors, only Warren Hull and Kenne Duncan returned in their original roles for the sequel.
"The Octopus," a masked crime lord, is bent on crippling America with a wave of terror. He demands tribute from railroad magnates and other captains of industry. Richard Wentworth (Warren Hull), an amateur criminologist who is friendly with the police and is secretly "The Spider," a masked vigilante, is equally determined to destroy the Octopus and his gang. Pleasant and smiling in civilian life, Wentworth is frequently ruthless as The Spider, using his two .45 semi-automatic pistols against any public enemies who attack him.
The Octopus was a pulp villain written by Norvell Page, who also wrote most of The Spider pulp novels. He is garbed completely in white and is only ever seen by his henchmen while sitting in his throne-like chair. Unlike the pulps, where The Spider is dressed in an all black cape, mask, suit, and wide-brimmed fedora, in the serial he is garbed in a black suit and fedora, but with white web-like markings on his lightweight cape and full face mask. The serial follows the standard formula of fights, shoot-outs, Wentworth's friends being kidnapped at various times and needing to be rescued. Each chapter ends with The Spider or his friends in deep trouble, often about to be killed, but the effect is spoiled by a trailer for the next episode which follows, showing them rescued and continuing to fight the villains.
Cast members include: Warren Hull as The Spider, secret identity of Richard Wentworth, along with Blinky McQuade, Iris Meredith as Nita Van Sloan, Richard Wentworth's fiancée, Richard Fiske as Jackson, Ruchard Wentworth's driver, and Kenne Duncan as Ram Singh, Richard Wentworth's Sikh bodyguard
text from wikipedia